Clip Types
Which clip is right for your princess?

We have 4 hair clip options, each one uniquely designed for various amounts of fine hair. We are confident that our clips will work much better than traditional clips found at the store, and even others found in boutiques. After all, fine hair is our specialty!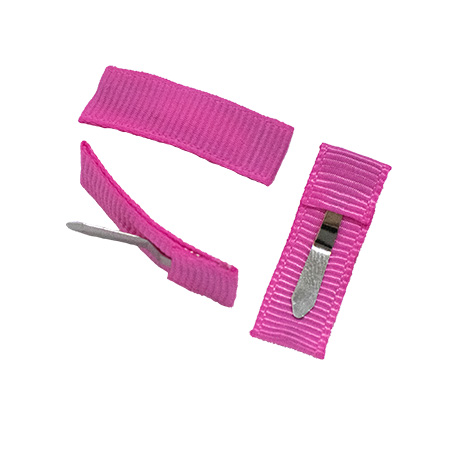 Recommended hair type: Fuzz through short, fine, wispy hair
Size: Clip measures 1 1/4" long, 3/8" wide.
Detailed Description: Our tiny metal bitty clip is a unique design, and has a tight hold for the tiniest amount of short, sparse, and infant fine hair. Near-baldies™ can wear this clip! If she has never been able to wear a bow before, this is the clip to try! This clip is not just for peach fuzz. Short, baby fine hair works beautifully with this clip at various lengths, especially if it is wispy. It is very lightweight, so she likely won't even notice it on her head. This clip is small, so it does not hold a lot of hair, or heavy bangs. As she gets older and her hair thickens, this clip can also be used over a rubberband. This is also a super-cute clip to tame fly-aways from pigtails or a ponytail.
Recommended hair type: Fine hair or soft baby bangs
Size: Clip measures 1 1/2" long, 3/8" wide.
Detailed Description: This clip is fully lined (top and bottom prong), with top quality, special ordered velvet ribbon. The velvet ribbon makes an exceptional difference in how well this clip holds. These are NOT comparable to other ribbon lined alligator clips you may have tried - they work so much better! The velvet fills the gaps of the alligator clip, causing great friction and a super-tight hold. If she has around 1 1/2" or more of fine hair, this is our favorite option. This truly is a versatile clip for many lengths of fine hair.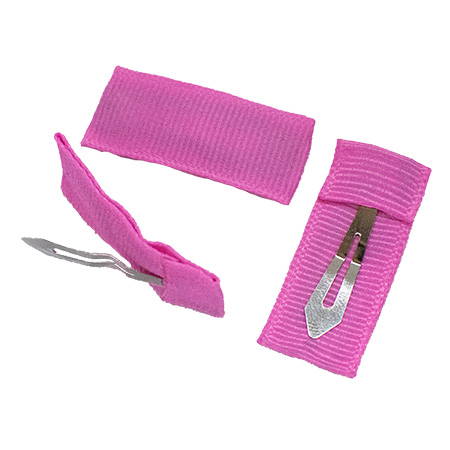 Recommended hair type: Minimum 2 inches of fine hair
Size: Clip measures 1 1/2" long, 5/8" wide.
Detailed Description: This is a larger version of our bitty clip, designed for 2 inches of hair or more. It is light weight with a solid snap, and great for fine hair. This medium sized snap clip is fully lined for exceptional hold of those longer wisps. It also works beautifully clipped over a rubberband. This clip holds more hair than our bitty clip, and is versatile as her hair starts to thicken.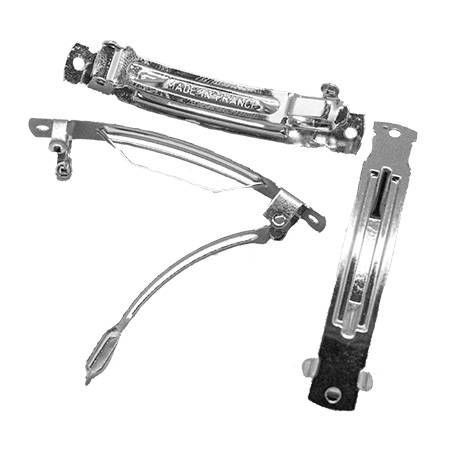 Recommended hair type: Thicker amounts of big girl hair
Size: Clip measures 50mm long, 3/8" wide
Detailed Description: Our French Clip is actually made in France. There is a tremendous difference in quality between French "style" clips, and real French clips. Real French clips are 3x more expensive than their imitations, but this quality is very important to us. Real French clips are much sturdier, and are made to last. (French style clips that are not actually French made often work fine in the beginning, but stop clasping shut after minimal use and are not fixable. Real French clips do not fall apart like this. Make sure it says "Made in France", like ours do.)
IMPORTANT UPDATE ON OUR FRENCH CLIP!
This sturdy french clip that we've sold for 15 years is in the process of being replaced. Sadly, the factory in France that produced this clip closed due to COVID, and upon reopening didn't resume production of this style. We have tried to no avail to source a French company to make this, and since our search has come up empty we're now working with Asian factories. As of June 2021, we have it narrowed down to 3 different reputable manufacturers (and we've started testing). Beginning July 1st 2021, orders with the french clip will be made using one of the new clips. While we can't vouch for the quality just yet, if the clip breaks or doesn't last as expected we absolutely want to know and will make it right. We really value your feedback during this time. We will be working on a permanent replacement through the end of the year.


Please note: Unless otherwise noted, all items are pictured on our bitty clip, which is the smallest of our clips. Styles with the other clips may show more of the matching ribbon-lined clip, depending on the size of the flower/bow.